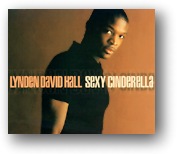 Maria "Miss Funkyflyy" Granditsky: What kind of music do you listen to? What have you been influenced by?
Lynden David Hall: I listen to all kinds of music. I'm not sure where my influences comes from. But I listen to a lot of Prince, I listen to Curtis Mayfield, people like Al Green, Stevie Wonder, Aretha Franklin.. But I listen to a lot of music outside that as well, like Joni Mitchell, Bob Dylan, Hendrix, and Vaughan Williams.. Also some classical stuff. Whatever moves me, whatever is soulful. Each music has its own kind of soul.
Is anyone else in your family musically inclined?
Yeah, I have a sister that plays drums, she's played for a couple of years now, and my oldest sister is in a band. They did gigs around south London. But when I started getting into it, there was no one else in my immediate family that was into music. It was purely self determination. My parents weren't like "yeah, you can do that", they were more like "you need to get a real job" (laughs). But I just loved to do this and I was the happiest I've ever been when I was playing music. I didn't want to do something for the rest of my life that I wouldn't be happy with.
Please tell me about Easther from Eternal, I understand we have a lot to thank her for..
I definitely wouldn't have got into singing, at least not as soon as I did, if it hadn't been for her! Easther and I went to college together and we were just friends, initially I didn't know that she sang. She knew that I played, though, because I wandered around college with my guitar on my back. We started talking about music, she told me that she sang and I played her one of my songs. She was like "you've got a really nice voice" and I said "no, no, no, don't listen to my voice, just listen to the song, it's a really good song". I was very insecure and shy about singing at that time. I could never do it in front of people! But she told me to come down to this vocal, kind of, lesson. It was like a group of people that did choir work and they had auditions every few weeks. I was like "no, way! I'll never be able to sing in front of people". But she insisted that my voice was really nice, so we went there and auditioned. That was the first time I heard her sing and it really blew me away. Then they called out my name next and I was trying run out the door. I didn't want to sing after hearing her! (laughs). But I did my thing and it was good. She was really encouraging me all the time and we are still friends to this day.
So you went to a "regular" college and after that a music school?
Yes. This course I did with Easther was after college and it lasted for about a year. After that, I went to the the British School of Performing Arts and Technology to study engineering, because I still didn't have the confidence to do the performance thing. I went there because they said they'd have a 24-track studio and all that stuff, but when I got there it wasn't even built yet. It was just an empty room (laughs). So I ended up staying in my room after school, playing guitar. Then I hooked up with some friends and we started jamming after school. Then we got a band together and started getting gigs. Still, after school, I would sit and play the piano, a drum kit or bass. That's where I picked up the instruments. Through just messing about after school, basically.
You got Easther to sing on some of your songs, but I've heard that she didn't think too much of your lyrics..
(Laughs). Well, Easther's background is a little more conservative than mine, I suppose, and I respected that. On that course we were taking, there were other musicians about and I was still trying to hear my songs being played by the musicians. So I was getting together a little band there. It was difficult for me to sing the lyrics at the same time as I was showing the parts to the other musicians. Easther would sometimes come in and help me out by singing the words. You know when you're seventeen, there's only X amount of things on your mind (laughs). I like to write honestly, so I was writing a lot of stuff about sex (laughs). Easther would skip words as she was singing along. She liked my songs, but she just wasn't prepared to sing those kinds of lyrics.
Was this the Rock-Funk band that you later performed all over London with?
No, that was later. When I was at the Brit School, I put together this kind of Jazz-Funk group called Sexual Suicide. It kind of extended from there, just writing about sex (laughs). But the band just kind of died and towards the end of it I was thinking a lot about other stuff I wanted to do, musically. I wanted the music to go different places. We had exhausted every avenue that we could, as a band. After that, I started up another band called Lynden Tree. We had a club in Brixton, a club night, at The Vox, which we used to put out, me and some friends. Lynden Tree would play there every week and we were playing like Hip-Hop and old funk grooves. The stuff I was writing then is pretty close to what I am doing now, style wise anyway. Sexual Suicide had a horn section, but I dropped that. I was more concentrating on just the groove of it, the songs and the soulfulness of the music. My present sound kind of developed from there. Then, that band didn't work out and that's when I thought I'd go at it, solo. So I sat at home with my 4-track, did some more demos, hooked up with a manager who sent my stuff around and eventually I got a deal. Well, I was in a privileged position, where there were a couple of major labels that wanted to sign me at that time. Cooltempo/EMI offered me the best deal.
And a studio, eh? (laughs)
(Laughs) Yeah, that was what I was saying to the record companies. I stipulated that as one of the things I wanted. I even went to the shop and I worked out every little piece of equipment that I needed in the studio and gave them the exact prices.
That was clever. Studio time is expensive, isn't it?
Yeah, it is. But I needed a studio in my home because I write at strange hours; whenever I feel like writing I wanna be able to just get up and do it.
Oh, my! What does your neighbors say? (laughs)
(Laughs) I use head phones when it's really late, but my house is semi-detached, the studio is right on the corner and there is no house on that side.
OK, good. Otherwise, I wouldn't wanna live next to you (laughs).
(Laughs) I know, I know.
So, when did you decide to really go for it as a solo artist?
I knew I wanted to be in the business when I was fifteen. I wanted to get a deal, but I was willing to do it as a member of a band. After Lynden Tree broke up, I decided to pursue it on my own because there was a lot of.. You know, when you are in a band, there's a lot of politics within the group that you have to deal with. And when money gets involved it all gets a bit strange. The focus of the band seemed to be slipping away from the music.. Lynden Tree broke up in 1994, I think. Then I started from scratch, again, and I was writing demos. But it was basically the same style on the demos as I had been writing for the band. I was just carrying on doing it. But when I was with the band, I never really wrote with them. I wrote the stuff myself and arranged it, and then we arranged the songs slightly different when we played them live. Writing was still a solitary thing for me, even though I was in a band.
Whose idea was it to have you go to the States, where you met Raphael Saadiq from Tony Toni Toné, and worked with Bob Power (of D'Angelo fame)?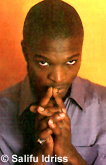 The record company and my manager suggested that I'd work with a producer on my album and I was like "nooo, I don't think so. I've never done it before and I don't want to do that". For the first year we tried with a guy and it didn't really work out. So then then they said "let's' try with Bob Power" and I said "OK, I'll try it, just to see what happens". So, I went out there for three months and did four tunes. We did "Crescent Moon", "Sexy Cinderella", "Medicine For My Pain" and "I Wish I Knew". Bob's well known over there in New York, since he hangs around so many studios, and it was quite intimidating at first because of all these artists that were just wandering around the corridors or whatever and there I was, just sitting there in my little room. I met Biggie out there, before he got killed. I met Ali Shaheed Muhammad from A Tribe Called Quest too. We hung out a little bit. He was really cool. I got together with Raphael through Ali. He called Bob in the studio one day. Ali was like "oh, Bob, we're rehearsing around the corner, come over and bring Lynden". Someone wanted me to come to rehearsal and Bob wouldn't tell me who or what or anything. When we went there, Raphael was there. He was singing and Ali was playing bass. D'Angelo was there playing keys and a guy called Spanky who plays all the guitar on their new album, the "House of Music" album, so I got to meet them all.
I see. According to another article I have read, the story of how you got to work with Bob Power was a little different. It said that you had sent a demo to Trevor Nelson, the A&R guy at EMI, before you even had met Bob and that Trevor was ambivalent about it because he thought it sounded "too much like D'Angelo", although you had no idea who D'Angelo, or Bob Power was at that time. That's why it was so ironical that after EMI signed you, they suggested that you worked with Bob. Is this not how it happened?
Not exactly, no. They misquoted me in there. When my manager was sending stuff out, he sent stuff to Trevor at EMI. Trevor responded that it was good, but that it sounded much like the guy they were about to release at that time, which turned out to be D'Angelo. Then, some months later, after they had released D'Angelo's album, I was still sending them stuff and they were cool with everything. They said "Ok, I can hear this, you are doing your own thing" and gave me the deal. I went to New York after that. So I hadn't met Bob until after I had been signed and the record company suggested me to work with him.
Did you feel comfortable working with Bob Power?
Yeah. He is just a crazy, kind of hippie weirdo in his mid-forties, but he is really nice. Really cool. I knew of him before we met, from mixing. He's mixed a lot of Hip-Hop stuff, Tribe Called Quest's albums and a bunch of other stuff. I didn't know that much about his producing, though.
Lynden, before you have to rush off, will your next album be a "one-man-band" thing too? Or do you have other plans?
Possibly, probably, yeah, it will be a one-man-band thing. That's the way I prefer to work.
Thank you so much for the interview. I wish you all the best!
Thank you. Bye bye!